Since 1987, Altimate Medical and its EasyStand brand has lead the standing industry by creating unsurpassed standing technology for those with disabilities. Designed by a C6-7 quadriplegic, EasyStand's line of standing frames have helped improve the quality of life for kids and adults who use wheelchairs worldwide.
A durable medical equipment manufacturer based in Morton, Minnesota, we design and develop standing devices that support the body in a standing position. Simply designing a stander, though, was not enough. We strive to perfect all of our standing equipment and products and have turned to our valuable customers in doing so. Standing is all we do – and we offer the widest array of standing equipment in a variety of sizes and options, including the unique "Active Standing" Glider.
To begin the process of generating an LMN, please choose a product that suits your patient the best and follow the instructions.
If you have any questions please refer to the FAQ page, if your problem is not listed there use the contact form to reach out to us for assistance.

Bantam Series
The only sit-to-stand standers with the option of additional supine positioning for infinite positioning possibilities between sitting, standing full supine lying or anywhere in between.
The Bantam series is recommended for those who require the ability to go into Supine mode. It also includes a Mobile frame that allows more user independence and gives them a sense of freedom.
Fits users whose height is 28″-5'6″ and weight is up to 200LBS.
---

Evolv Series
Sit to stand stander with over 70 support and positioning components, making it the most versatile and modular standing system available.
The Evolv series allows for more compliance to a standing program by giving the user the ability to go into a standing position. It also has an option for a Mobile frame which allows for more user independence and gives them more freedom.
The Evolv Series is for a wide range of users whose height is 4'0″-6'10" and weight is up to 350LBS.
---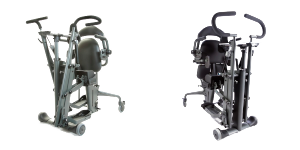 Glider Series
featuring exclusive "active standing technology" which allows the user to facilitate motion in the lower extremities, similar to cross-country skiing, using their arms – with or without assistance from a caregiver.
The Glider fits users whose height is 5'2″-6'2″ and weight is up to 280LBS.
---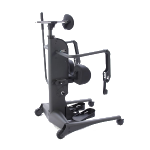 StrapStand Series
A strap-style stander that provides a transfer-free standing experience. Unique lifting arm design raises the user vertically first, then pulls them up to a standing position, rather than pulling a user into a knee pad and forcing a standing transition. The StrapStand greatly reduces pressure on the patella.
Fits users whose height is 5'0″-6'5″ and weight is up to 350LBS.
---